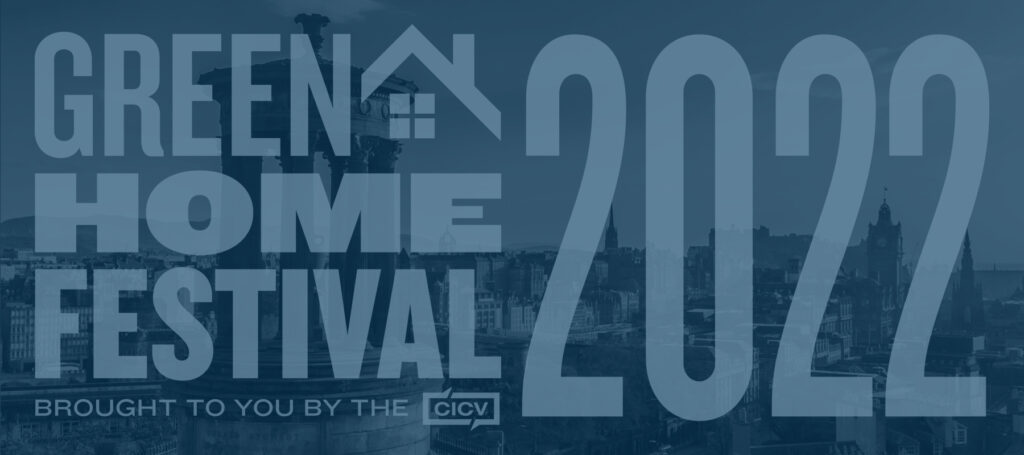 Representatives from the CICV's 29 organisations have pooled their expertise and knowledge to create the Green Home Festival as part of the 2022 Edinburgh Festival Fringe.
Running from 8-12 August, the Green Home Festival will feature 12 shows, which are all free to attend. Some will be in-person and hosted at the offices of The Royal Institution of Chartered Surveyors at 10 Charlotte Square in Edinburgh. Others will be delivered online via webinar or on-site at other locations around the city.
A schedule of events is below. A more comprehensive list, and details of how to book, can be found at the dedicated Green Home Festival website here.
August 8 / 10am / Launching the festival

The first-ever Green Home Festival will be officially launched in the heart of Edinburgh at 10am on Monday 8 August.

Our special guest will be Patrick Harvie, Minister for Zero Carbon Buildings, Active Travel and Tenants' Rights, who will welcome delegates to the inaugural event and set the scene for the week ahead.

Tea and coffee will be served in the boardroom at 10 Charlotte Square, giving you chance to network and meet other guests committed to building a greener future for Scotland.

Speeches will be made by representatives from our hosts, RICS, after which Gordon Nelson will introduce Mr Harvie and invite him to outline his vision for how we can work together to become a net-zero nation.

After the speeches, guests will be invited to remain and watch the first show of the week at 11am – a virtual session on protecting against floods, presented by representatives from BE-ST, SEPA and the Scottish Flood Forum.

Note: Numbers are limited to 50 for this event.
August 8 / 11am / Protecting against floods (webinar)

With advice from three expert organisations, this webinar will provide an understanding of flooding and its impact, how to access support and how to protect your property from flooding.

Topics covered will include:

General understanding of policy targets and climate change
Where to check local/national flood zones
Where to access support if you are flooded
What can you do to protect your property from flooding.

The session will also deliver will a general overview of zero carbon transition and the impact on the built environment.

Information on upcoming changes to flood support and other activities relating to things like insurance will also be provided, plus links to resources and any support currently available.

TO BOOK: Please email info@greenhomefestival.co.uk and you will be sent a link to register for the webinar
August 8 / 2pm / Using sustainable materials (webinar)

This webinar will focus on circular and sustainable materials with an emphasis on homegrown materials to show the positive impact they can have on the embodied carbon profile of a building.

No prior knowledge is necessary as the audience will be provided with a general understanding of these materials and their benefits.

Topics will include:

An overview of sustainable materials
Understanding of embodied carbon and why it is important.
Learning from the challenges of a real-life example

Our expert speakers will also highlight the alternative options to common insulation types and the wider retrofit and new build design considerations at specification stage.

Crucially, the panel will also discuss the challenges required to reduce embodied and operational carbon and develop the new skills that will be needed to construct net zero buildings.

TO BOOK: Please email info@greenhomefestival.co.uk and you will be sent a link to register for the webinar
August 9 / 11am / Demystifying heat pumps

This show is focused on helping homeowners understand more about the use of heat pumps to warm the home and reduce carbon emissions.

Held in the heart of Edinburgh, the talk will be split into three sections:

An introduction to SNIPEF – the importance of using a competent plumber and an overview of how the organisation is working to help the Scottish Government reach its net zero targets by 2045.
Demystifying heat pumps – a talk on what a heat pumps is and the different types currently available for the home. We'll also cover exactly how a heat pump works and how they can play a part in reducing carbon emissions.
Practical support – a presentation from Home Energy Scotland on some of the support homeowners can access to improve energy efficiency in their homes.

Each section will be followed by a Q&A session, during which you'll have plenty of time to ask questions and have your queries answered. You'll also have chance to network with our experts afterwards and ask them one-to-one questions.

Note: Numbers are limited to 50 for this event.
August 9 / 12.30pm / Transforming a listed museum (webinar)

After reopening in April 2022 following its extensive refurbishment, the A-listed Burrell Collection in Glasgow is now setting new standards for sustainability in museums.

Our experts will discuss how the reimagined building's environmental performance has been enhanced by greatly improving its exterior, and will also reveal how it replaced power, heating and lighting systems with more efficient sustainable technologies.

The result is the first listed museum building to achieve BREEAM Excellent in the UK, meaning that one of the greatest global art collections ever amassed by one person is now housed inside an improved and upgraded building for the future.

TO BOOK: Please email info@greenhomefestival.co.uk and you will be sent a link to register for the webinar
August 9 / 2pm / Taking the Swedish view (webinar)

With the UN 2030 Agenda as a Road map, Botkyrkabyggen is one of Sweden's most award-winning housing companies.

Solar panels, windmills, artificial intelligence and district heating are just some examples of how the company works for improving energy efficiency, a fossil-free operation and environmental sustainability.

The company has also been noted for its unique ability to combine measures for social, economic and environmental sustainability, for example in their renovation projects and investments in gender equality.

Botkyrkabyggen is a clear example of how important sustainability is for companies in order to maintain and develop a future-proof business model and finances, with the company's property values doubling in the last five years.

"The sustainable business will be the only business in the future. And the future is here," says CEO Cris Österlund.

CEO Cris Österlund and Press Manager Charlotta Lundström will show concrete examples and widen the perspectives of how an affordable housing company can contribute to a sustainable future with businesslike principles, combined with social responsibility.

To book, please click here.
August 10 / 10.30am / Improving energy efficiency

AC Whyte will be our hosts for this show as we take a tour of a site in Edinburgh to see a real-life example of the fabric-first approach to improving the energy efficiency of today's homes.

The company is currently delivering regeneration works to 29 blocks of four-storey flats at Murrayburn for the City of Edinburgh Council.

The works form part of the council's three-year Mixed Tenure Improvement Service (MTIS) pilot in the Wester Hailes area, a ground-breaking programme to repair, maintain and improve jointly-owned low-rise housing stock, bringing it up to both a good condition and energy efficient standards.

Visitors will see first hand how the contractor has delivered these upgrades in a real on-site experience that will showcase the project before, during and after the various stages of work.

They will be able to ask questions about the techniques and products used, learn how the project helped reduce heating costs and learn what a fabric-first approach to energy efficiency actually means.

Note: Numbers are limited to 20 for this event.
August 10 / 12.30pm / Mitigating climate change (webinar)

Aimed at construction industry professionals, this session will see our panel of experts explain how building envelopes can help mitigate climate change.

The panel will discuss new government standards for net zero in public buildings and focus on the envelope-first approach, with Fife College used as an example.

The presenting team is due to include representatives from Woolgar Hunter, Reiach & Hall and Atelier Ten.

TO BOOK: Please email info@greenhomefestival.co.uk and you will be sent a link to register for the webinar
August 10 / 2pm / Retrofitting a tenement

Scotland is famous for its imposing blocks of traditional tenements – and this show will explain how they can be retrofitted with the latest technology to reduce heating costs and cut carbon emissions.

Central to the event will be a virtual tour of a 3D model of a renovation of tenements in Niddrie Road, Glasgow, that is designed to inspire and inform those starting a retrofit journey in their own home.

The audio-visual presentation will deliver detailed insights and understanding, showing the works in progress and construction details needed to achieve the necessary EnerPHit standards.

Delegates will then have the chance to quiz the experts from John Gilbert Architects, who will share their first-hand knowledge and advise on what to consider when undertaking an energy efficiency project.

Too good to miss!

Note: Numbers are limited to 50 for this event.
August 11 / 10.30am / Leading from within

Aimed at the construction industry and held in the RICS Boardroom in Charlotte Square, this talk will be delivered by Professor Chris Gorse of the Leeds Sustainability Institute.

Offering a professional perspective on the multidisciplinary approach required to build a more sustainable and healthy environment, he will issue a call to designers, engineers and managers to take the lead.

He will also give consideration to the frameworks that are reshaping the industry and cover the role that professional bodies and leading corporate institutions are playing in setting a social, economic and environmental agenda – and the impact this is having on the funding of projects.

Other topics for discussion will include:

The risks of not positioning organisations and projects with a clear sustainability agenda
The challenges of trying to penetrate a sustainability-driven market
The advantages of strategic corporate sustainability
The social and environmental changes impacting on project finance
How organisations can ensure they are not left behind
How to engage with the green economy and deliver corporate sustainability with real social and environmental impact.

Many still remain sceptical of the benefits of sustainability and are reluctant to engage due to the resource requirements to engage with the process and monitor and track improvement.

However, delegates will leave the session with greater understanding of how the agenda will reshape the industry and how organisations can take action.

They should also understand the changes in the market, the benefits of planning and measuring performance and impact and how such actions and strategies can be delivered across a supply chain.

The show will also reflect on the positions taken by professional bodies, the action taken and changes expected, plus the leadership approach and action taken by the CIOB.

Note: Numbers are limited to 50 for this event.
August 11 / 12.00pm / Building green neighbourhoods

This presentation will use a real-life example to educate and inform, focusing on the practical aims and results of the Granton D1 net-zero housing project in Edinburgh.

The session will outline the methodology used to achieve the sustainable development (pictured below) and demonstrate how it was applied throughout the project.
August 11 / 2pm/ Hitting the road with EVs (webinar)

Electric vehicles are becoming the norm on our roads – and this beginner's guide will put you in the driving seat if you're thinking about switching to an EV.

In the first part, the experts from Pike + Bambridge will provide a crash course in all things EV, outlining the pros and cons of choosing to go electric with topics including:

Running costs
Government grants
Range anxiety
Journey planning
Different models
Types of cabling and power
Availability of charge points.

Once you know your AC from your DC, we'll hand over to the technical gurus from Scotland's largest trade association, SELECT, who will outline what to consider if you're thinking of getting a charge point installed in your home.

This step-by-step guide will include plenty of practical advice for householders, with the opportunity to ask questions afterwards.

To book, please click here.
August 12 / 12pm / Living safely in the future

The Green Home Festival will close with this fascinating presentation by Electrical Safety First, who will be throwing the spotlight on the technology of tomorrow.

Heat pumps, solar panels, electric vehicle charge points and battery storage could all be commonplace in our homes in just a few years, but how do we ensure that we keep it – and ourselves – safe?

This show will focus on the types of technology we can expect to see in our homes, and the measures that will need to be put in place to ensure they operate safely – and what we should all be aware of before kitting out our futuristic pads.

Note: Numbers are limited to 50 for this event.