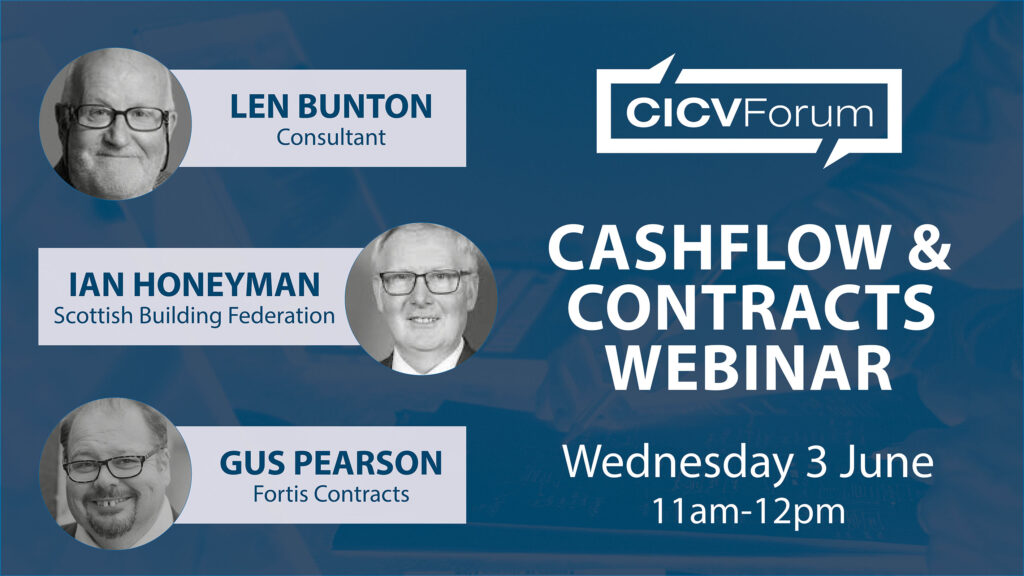 Following the resounding success of its first webinar, the CICV Forum is immediately staging a follow-up event as the sector begins its long-awaited return to work.
The latest online webinar will take place on Wednesday 3 June on the crucially important subjects of cashflow and contracts. It will feature three industry experts – Consultant Len Bunton, Ian Honeyman of the Scottish Building Federation and Gus Pearson of Fortis Contracts.
The webinar comes hot on the heels of the inaugural event on 27 May in which Becky Crosland, Health and Safety Advisor at the Building Engineering Services Association, and CICV Forum member, chaired a lively discussion on health and safety.
At a time when the industry was gearing up to restart site activity, 136 people from across the sector signed up and took part – a particularly promising start.
Becky said: "This was a tremendous response and it clearly demonstrates that there is a hunger out there for clear, concise information which is particularly relevant to the strange times in which we find ourselves.
"I am sure this week's webinar will be every bit as successful. Cashflow is a matter of primary importance to every company in the industry and the webinar looks as if it will be a welcome new way of imparting information widely and efficiently."
The webinar series is the latest initiative from the Forum, which has produced a comprehensive 42-page underpinning document to complement recent safe operating guidance issued by the Scottish Government and Construction Scotland.
Ian Honeyman said: "The Forum was set up to respond to the biggest crisis any of us have ever experienced and it has responded with professionalism, dedication and a clear and firm purpose.
"The webinars are another example of innovative thinking and the collective ability to respond positively to a crisis. There is a great lesson here for the whole sector as we try to rebuild our badly-damaged economy."
The webinar on Wednesday 3 June at 11am is open to anyone. Register here.