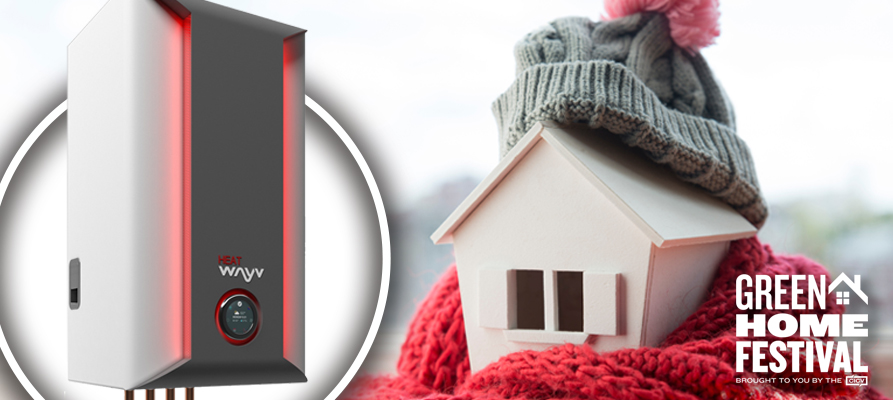 As the organisers of this year's Green Home Festival, the CICV is urging homeowners and the construction industry to "be brave" and embrace innovations like microwave heating to help build a more sustainable future and meet net zero targets.
Scotland's second renewables jamboree will kick off in less than two weeks, delivering 11 free shows on low-carbon living as part of the official Edinburgh Festival Fringe.
And the CICV says its event on the potential of microwave heating is an example of a technology that could offer a real alternative to traditional fossil fuels – but only if we're brave enough to embrace it.
Co-organiser Gordon Nelson, Scotland Director of the Federation of Master Builders, said: "Our upcoming show on microwave heating is the perfect demonstration of the bravery and innovative thinking that is needed by both the construction industry and homeowners if we are to build a sustainable future for Scotland.
"We know that we'll need a combination of methods to meet both the retrofit challenge and the new-build heat standard and this new technology is one of the solutions that we should be having the courage to explore now."
The microwave heating show will be delivered on the first day of the festival by Professor Sean Smith, Director of The Centre for Future Infrastructure and Professor of Future Construction within the School of Engineering and at the University of Edinburgh.
Starting at 2pm on Monday 14 August, the event will focus on the origin of the new technology, how it works and how it could offer an alternative to traditional heating methods in our homes.
Mr Nelson went on: "It's great for us to have this innovative solution explained this year as part of the Green Home Festival, and this technology could provide the rapid acceleration of low carbon heating for Scotland's 1.2 million flats, given the short installation time and the fact that it links to existing radiators.
"We just need to be brave, adjust our mindsets and think outside the box when it comes to potential greener solutions like this."
He went on: "As well as microwaves, the Green Home Festival will also look at other innovations in home heating, such as hybrid systems, which combine new technology with traditional methods to reduce both costs and carbon footprint for the homeowner.
"And on a larger scale, we'll be looking at the benefits of community heating networks and exploring how distributing heat to multiple buildings from a central source could do away with the need for individual boilers or electric heaters in every building.
"All this activity is designed to start a conversation about renewable living and to encourage homeowners to start thinking differently about how they will power, heat and run their homes in the years to come.
"It will also help demonstrate how the CICV has its finger on the pulse of future solutions to meet the climate challenge and is determined to help steer the wider construction industry down a more sustainable path."
Live Green Home Festival sessions will once again take place at the Royal Institution of Chartered Surveyors (RICS) at 10 Charlotte Square in central Edinburgh, with contributions from the likes of Home Energy Scotland, Scottish Water, SNIPEF and SELECT.
Other topics covered will include creating sustainable kitchens, green garden rooms and offices, making retrofit projects eco-friendly, converting churches and how the home of the future will be powered.
Built Environment – Smarter Transformation will also host a webinar that will advise what consumers can do to reduce both their energy consumption and energy bills.
Full details, including how to book tickets for each event, are available here.