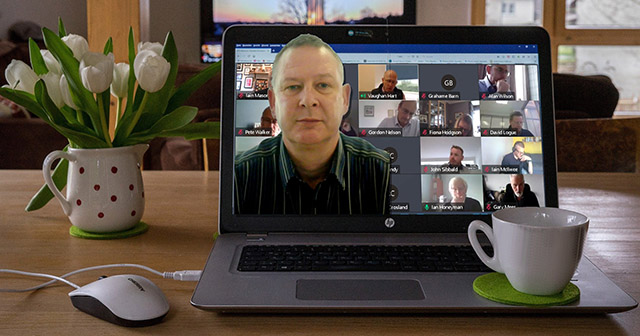 Scotland's construction industry has been recognised for playing its part in the battle against COVID-19 – but has been warned not to take its "foot off the gas" after recent cases were reported on sites across the country.
The alert came from Russell Adfield, Head of Construction Sector and Policy at the Health and Safety Executive (HSE) during a recent online meeting of the full CICV Forum.
Mr Adfield told the industry collective that it should be congratulated for helping to ensure the sector followed correct protocols – and said its role was more vital than ever if the industry was to continue to stay safe.
He also acknowledged that the CICV Forum has provided businesses with the guidance they need to protect their workers, friends and families and meet the COVID-secure requirements of Construction Scotland and the Scottish Government.
Mr Adfield said: "During 2020, construction rose to the challenge and triumphed, protecting staff and providing the bedrock of the UK economy throughout the year.
"However, although plenty of good work has been done, it is vital that we don't take our foot off the gas and must all continue to work hard to protect against the very real threat that remains.
"This year is a time of optimism and hope, and a time to be steadfast and disciplined. We need to reflect and learn, but also to develop and advance as we maintain and improve our health and safety performance."
Mr Adfield said there had been 856 spot checks and 850 COVID site visits in Scotland since the start of the pandemic, which revealed 136 social distancing concerns.
He told the Forum at the meeting on Thursday 18 February: "Although December, was encouraging, January and February this year have seen an increase in positive reports of COVID cases on construction sites with the main issues continuing to be around social distancing and cleaning regimes.
"This is a critical period in the pandemic and diligence must be maintained at all times. Pandemic weariness and vaccination optimism can adversely affect personal and corporate behaviour, but we mustn't take our eye off the ball.
"Communication, cooperation and coordination in everything we do will be key in 2021 – and I know the CICV Forum will continue to help its members protect themselves and each other as we rebuild and recover."
Becky Crosland, Chair of the Forum's health and safety sub-group, said: "It's encouraging to hear this recognition of the work that has been done, and good to know that the collective efforts of the CICV Forum are appreciated.
"However, Russell is right – we can't take our foot off the gas. There is a long way to go and the end of the current need for stringent health and safety measures is not yet in sight.
"The construction industry has mostly been extremely patient, but we can't let complacency creep in and spoil the good work that's been done by so many in the past few months."
The CICV Forum has been at the forefront of issuing industry guidance since the Scottish Government strengthened lockdown restrictions on 13 January, reinforcing pleas for everyone in the sector to take responsibility.
In the last few weeks, it has issued updated Construction Operating Guidance and information for those working in domestic and commercial premises, as well as a unique homeworking advice document and checklist.