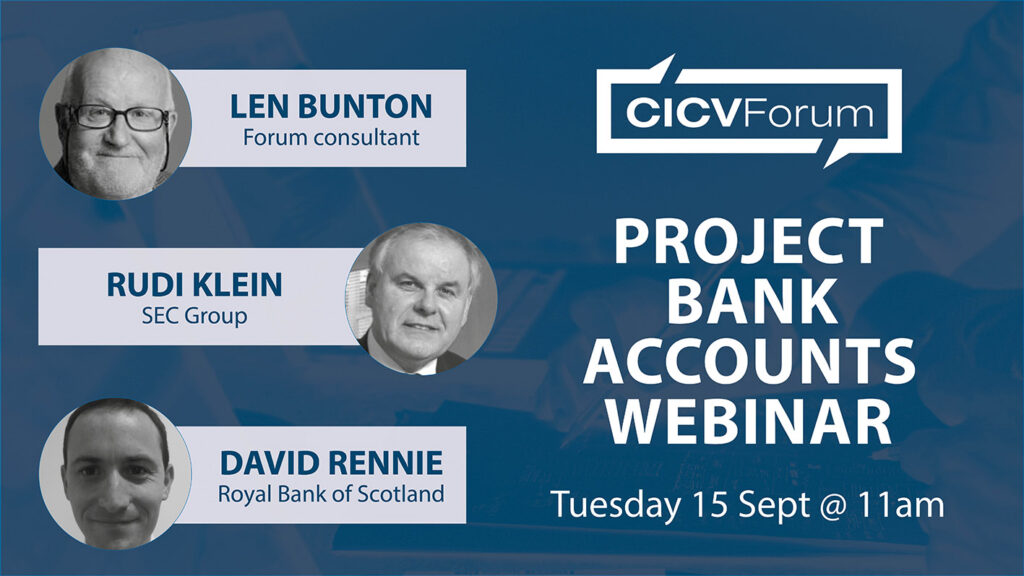 A leading financial expert has joined the panel of experts offering advice on project bank accounts (PBAs) at the first CICV Forum commercial webinar.
David Rennie, Relationship Director at the Royal Bank of Scotland, will play a starring role in the opening Forum webinar on Tuesday 15 September, which aims to help construction industry professionals improve their contractual and commercial awareness.
The experienced banking professional will sit alongside Professor Rudi Klein, CEO of the Specialist Engineering Contractors' Group, to discuss the many features and benefits of PBAs, with particular focus on the supply chain.
Len Bunton, dispute resolution consultant and Forum consultant, who will host the PBA webinar, said: "David is an extremely experienced operator who will bring a wealth of insight and information to our first webinar.
"We are delighted to welcome him as a guest presenter and know that delegates will benefit from the clear and practical advice that he and Professor Klein will deliver."
David has worked in finance, treasury, commercial and corporate banking during a 17-year career with Royal Bank of Scotland. Currently responsible for public sector and higher education in Scotland, his responsibilities include the Scottish Government banking framework, local authorities and universities.
He said: "I am extremely honoured to have been asked to take part in the first of these ground-breaking webinars from the CICV Forum.
"PBAs are becoming an increasing part of our industry and, alongside Professor Klein, I am looking forward to discussing their benefits and answering any questions from delegates."
Next Tuesday's webinar is the first of six free sessions being hosted by the Forum and will see Professor Kleinoutline how the PBA process operates, discuss the latest Scottish Government Construction Policy Note and answer any questions submitted by delegates.
Hosted by leading industry experts, and running fortnightly across from September to November, the online discussions are aimed at public and private sector employers, contract and commercial managers, architects, quantity surveyors and project managers.
The PBA session will be followed by a second module on Tuesday 29 September that will discuss changing the culture in the industry, problem contractual clauses, things to avoid, high-risk contract amendments, negotiating better terms and the 'battle of the forms'.
Held on Tuesday 13 October, online session No 3 will cover payment terms, getting paid on time, how to present payment applications, variations etc.
The fourth webinar will be held on Tuesday 27 October and will cover giving notices, extensions of time, loss and expense, while the fifth seminar on Tuesday 10 November will cover suspension and contract termination of contractors and sub-contractors.
The topics covered in the final session, held on Tuesday 24 November, will include conflict avoidance procedures, pitfalls and benefits of adjudication, the low-cost value adjudication process and expert determination.
Each webinar will start at 11am and will run for between 60-75 minutes, with sessions recorded and hosted on the Forum's YouTube channel.
Other presenters will include Ian Honeyman, Commercial Director, Scottish Building Federation, Deborah Harrison, Legal Manager, The British Constructional Steelwork Association Ltd and Angus Pearson, consultant and Director of Fortis Contracts Ltd.
Len Bunton said: "Sign-up to the webinars has already been extremely encouraging and it is clear there is an appetite for more commercial knowledge among the industry, particularly with the uncertainty caused by COVID-19.
"We will be adding to our content and roster of expert speakers over the next few weeks and months, with the aim of producing the most comprehensive range of commercial training webinars ever delivered."
The new webinars follow four successful Forum online events in May and June, during which experts gave advice on health and safety, cashflow, contract issues and a range of employment matters.
The Forum, which is made up of more than 60 trade associations, private companies and professional bodies, has also maintained a steady supply of information and practical advice to the sector as well as carrying out surveys and making appeals to Government Ministers.
In the last few months it has issued seven health and safety advice documents, updated its operating guidance and reminded construction workers to observe physical distancing in their social lives too.