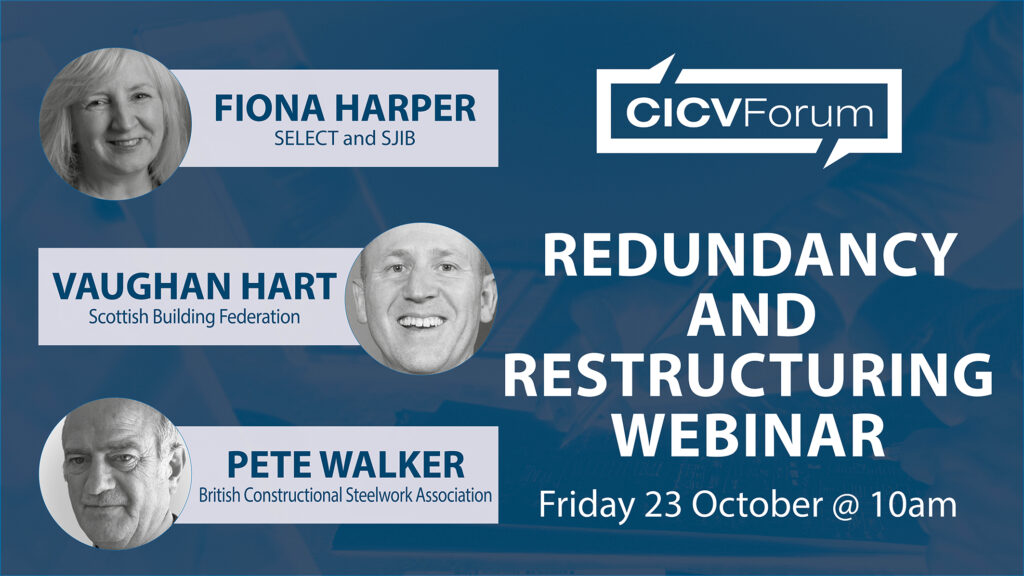 With the effects of COVID-19 beginning to impact businesses across Scotland, the CICV Forum is hosting two new webinars to advise and answer questions on redundancy, restructuring and other urgent employment issues.
The UK Government's new Job Support Scheme will also be on the agenda at the online discussions, which will again be hosted by leading industry experts and which follow the recent series of free commercial webinars.
Held on Friday 23 October at 10am, the first webinar will advise on all aspects of organisational restructuring and redundancy, with advice on initial steps, the most important actions to take, and the pitfalls and what to avoid.
The session will be presented by Vaughan Hart, Managing Director of the Scottish Building Federation, who will also answer queries in a Q&A with Fiona Harper, Director of Employment and Skills at SELECT, and Pete Walker, Director of Health, Safety and Training at the British Constructional Steel Association.
The second session, on Thursday 29 October at 10am, will offer advice and guidance on the Job Support Scheme, with guidance from panellists Pete Walker, Stephanie Lowe, Human Resources Manager at SNIPEF, and Paul Mitchell, Head of Employment Affairs at the Scottish Building Federation.
Vaughan Hart, who co-chairs the CICV Forum's Skills and Workforce Sub-Group, said: "With no end in sight to the pandemic, the impact of COVID-19 is beginning to be felt by our industry, and redundancy and organisational restructuring is becoming a reality for many.
"Such an unprecedented and tumultuous period throws up many questions and we are keen to advise our fellow professionals and support them however we can.
"These webinars will not only deliver clear and relevant information about employment current issues, but also give delegates the chance to ask questions and receive the guidance they really need."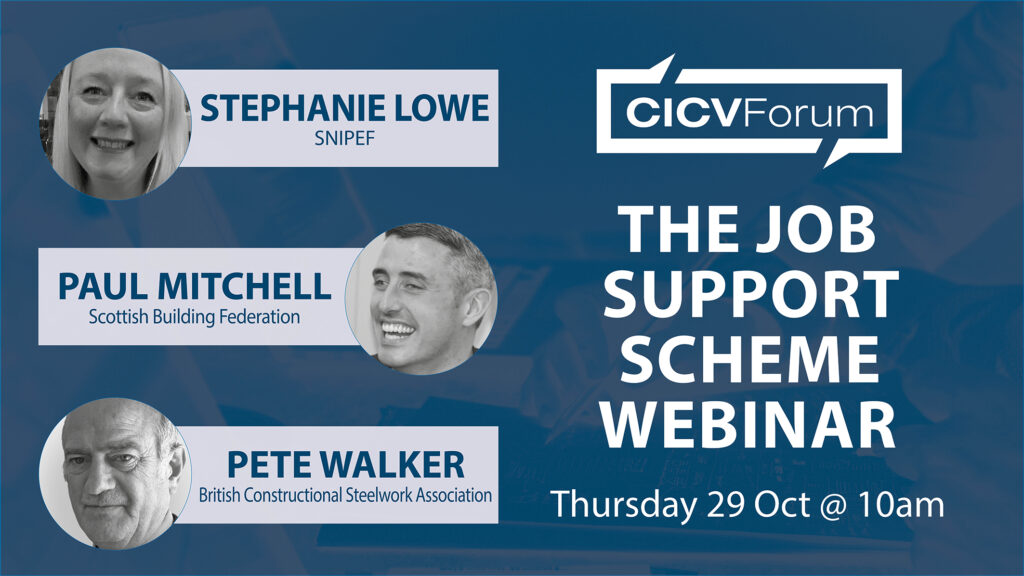 Fiona Harper, who is also The Secretary of the SJIB, added: "These two new sessions are yet another way in which the sector is coming together to help each other and assist in the rebuilding of the industry.
"It's clear there's a demand for employment information, so like everything the Forum does, we're listening to what people need and responding with clear and relevant advice that will help Scotland's businesses."
The webinars follow hot on the heels of three successful commercial sessions hosted by the Forum, which have advised on project bank accounts, changing the culture of the industry and getting paid on time. All are available to watch again here.
A fourth commercial webinar will be held on Tuesday 27 October and will cover giving notices, extensions of time, loss and expense, while a fifth on Tuesday 10 November will cover suspension and contract termination of contractors and sub-contractors.
The topics covered in the final commercial session, held on Tuesday 24 November, will include conflict avoidance procedures, pitfalls and benefits of adjudication, the low-cost value adjudication process and expert determination.
Pete Walker said: "During the past seven months, it has become obvious that the industry needs to cooperate and collaborate more than ever before if it is to survive.
"These ongoing webinars continue to offer a wealth of invaluable commercial and employment advice, delivered by vastly experienced professionals who have a deep understanding of today's construction industry."