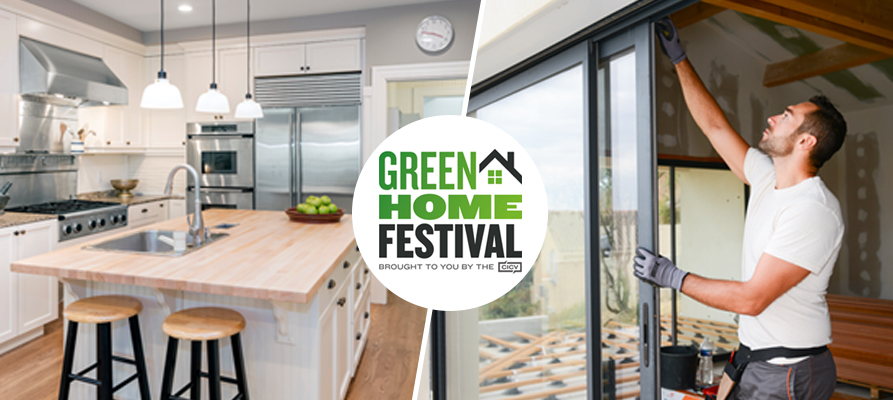 The first four shows have been confirmed for this year's Green Home Festival, with just 100 days to go until the start of the keenly anticipated event which is again being organised by the Construction Industry Collective Voice (CICV).
Tickets are now available for the second festival, which will run from 14-18 August as part of the official Edinburgh Festival Fringe and once again deliver practical assistance and advice to help Scotland become a Net Zero nation.
Organisers have announced the first four shows in the free hybrid event and say that other events and special guests will be announced shortly, with a special focus on consumer issues.
The first shows to be confirmed are:
Ingredients for a Greener Kitchen, a show which will focus on three vital areas that can make kitchens eco-friendly: water efficiency, electrical efficiency and sustainably sourced kitchen units. Delegates will have the chance to quiz experts from SNIPEF, the plumbing employers' body, SELECT, the electrical trade association and FMB member James Alan Construction, who will all share their first-hand knowledge and advise on what to consider when planning a kitchen.
Festival of fabric first, which will help homeowners understand more about the steps to take before embarking on a retrofit project to improve energy efficiency in their homes. The talk will offer tips and insights from a retrofit co-ordinator, architect and builder on what to look out for and the materials and products to use. It will also feature a discussion on Passivhaus.
Garden rooms and offices, which have become increasingly popular in recent years as homeowners change how they live and work. Experts will offer advice and tips on building a garden room and how to make it as eco-friendly as possible. Delegates will also have chance to ask questions relating to their next project.
Mr Nelson, who is among the CICV organising team, said: "The second Green Home Festival is shaping up to be as big a success as the inaugural event last year and the planning is firmly on track for another informative and helpful week.
"Once again, in a mix of in-person and virtual presentations, the Festival will highlight issues such as accessible green funding sources, air source heat pumps, electric vehicles (EVs) and EV charging.
"All the events will be relevant to the construction industry, which will be at the forefront of delivering net zero, but they will also have a strong focus on the interest of the consumers who will be the end users of the new technologies which are so rapidly being developed."
Targeting homeowners, professionals, local authorities, housing associations and local authorities, the Green Home Festival is the latest in a string of practical and constructive initiatives launched by the CICV since its creation as the Construction Industry Coronavirus (CICV) Forum in March 2020.
Made up of 29 trade associations, professional services bodies and companies, it has maintained a steady supply of information and practical advice to the sector as well as carrying out surveys, producing animations and posters, hosting webinars and maintaining close dialogue with Scottish Government ministers.
Tickets for all Green Home Festival events are free and can be reserved here.