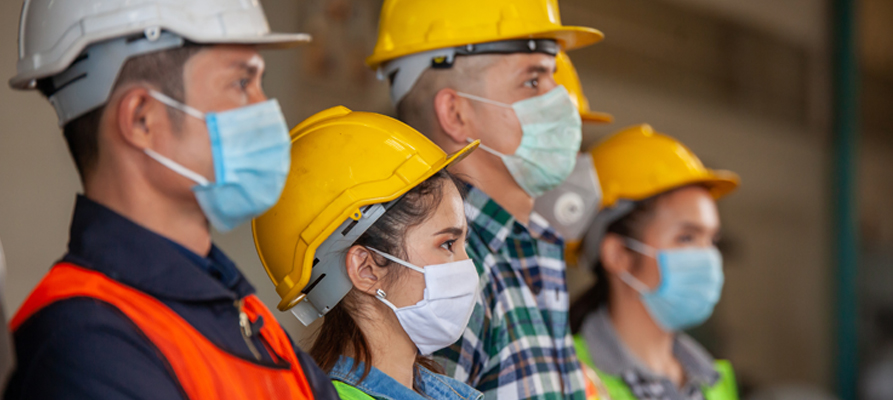 As Scotland prepares for its second coronavirus cold snap, the CICV Forum has urged the sector to focus on health and safety to protect colleagues, customers and families from another winter of discontent.
The collective warns that COVID-19 is still a serious threat and vaccinations can only help so much – insisting that it's vital for the whole construction industry to keep following rigorous health and safety procedures at all times.
Rebecca Crosland, Chair of the Forum's Health and Safety group, and Head of Health & Safety at the Building Engineering Services Association (BESA), said: "Despite a highly successful vaccination programme, the coronavirus pandemic is far from over.
"With new cases of COVID-19 being reported all the time, what we do now will have a big impact on the transmission of the virus as we move into the winter and New Year.
"With colder weather approaching, people will be increasingly working and spending their downtime indoors, where the risk of infection is much greater. It is therefore vitally important, even if you have been vaccinated, to keep following all the COVID-19 secure controls to protect vulnerable individuals, your work colleagues and yourself.
"This means washing your hands regularly, keeping to the physical distancing rules and using your face covering whenever possible. Remember – just because you don't have to wear one, doesn't mean you shouldn't!
"It's also important to get tested regularly, especially if you have developed symptoms, and to ensure you get vaccinated and receive the booster jab when offered."
The Forum said it was essential for the industry to keep following its latest advice video on safe working practices and other information on its website, including updated good practice guidelines designed to keep companies and their staff safe.
The body has produced a wide range of easy-to-follow guidance animations over the past 20 months, including advice on face coverings, guidance on travel and information for those carrying out domestic work
And Martyn Raine, Technical and Skills Manager at SNIPEF, added: "The health and safety advice may seem familiar by now, but the core messaging and key points are still relevant and should be followed by all workers in all roles.
"At the root of everything is basic hygiene and the recognition that COVID-19 isn't giving up, so neither should we.
"We have come so far and worked so hard, so it's essential that we keep giving this deadly virus the respect it deserves and keep ourselves, our colleagues and our families safe when we're on and off-site."
As well as its range of videos and guidelines, the Forum has produced a Long Covid safety-critical roles checklist, secure site risk assessment template and close working checklist that can be downloaded to help contractors plan COVID-safe working practices. The guidance follows a range of other information which is still available on the Forum site, including advice on working from home and preparing for HSE spot checks.