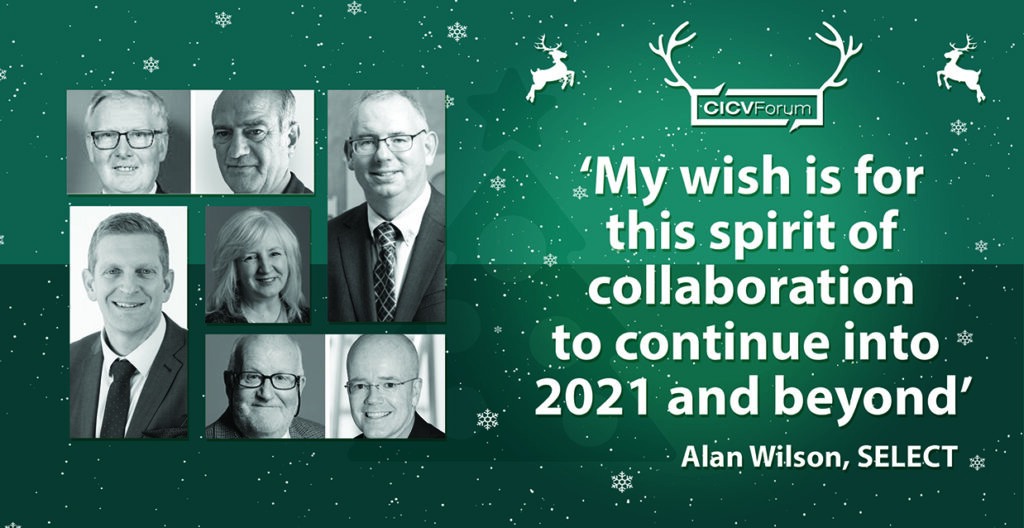 Cooperation and collaboration, greater worker welfare and a top-to-bottom revolution of the construction sector are all top of the Christmas wish-list for members of the CICV Forum.
With a year of massive and unprecedented upheaval drawing to a close, we asked our 100-plus members to reveal their greatest wishes for 2021 – with the answers as varied as the body itself.
While the pandemic undoubtedly brought a staggering level of challenges, it also ushered in a new era of cooperation which saw Forum members pull together to help Scotland's building sector get safely back to work.
And as the Forum released a round-up of its accomplishments and achievements in 2020, many members said their biggest wish is for this teamwork and togetherness to continue.
Alan Wilson, CICV Forum Chair and Managing Director of electrical trade association SELECT, said: "It's been amazing to see so many different groups and individuals working in a collaborative way with the sole aim of helping the construction industry recover from the current crisis. My wish is that this spirit of collaboration continues in whatever landscape we face in 2021 and beyond."
Vaughan Hart, Managing Director of the Scottish Building Federation, said: "The way that sections of our industry, not renowned for sharing resources and information, have come together has shown that we do have the potential to improve things for whole construction sector. My wish is that we don't revert to the 'old normality' once this crisis is over."
Gordon Nelson, Scotland Director of the Federation of Master Builders, echoed his sentiment, saying: "As we all know, necessity is the mother of invention, and the Forum was born out of necessity when the pandemic first struck. Ever since, we've seen unprecedented levels of cooperation and my wish is that this becomes the norm in 2021 and beyond."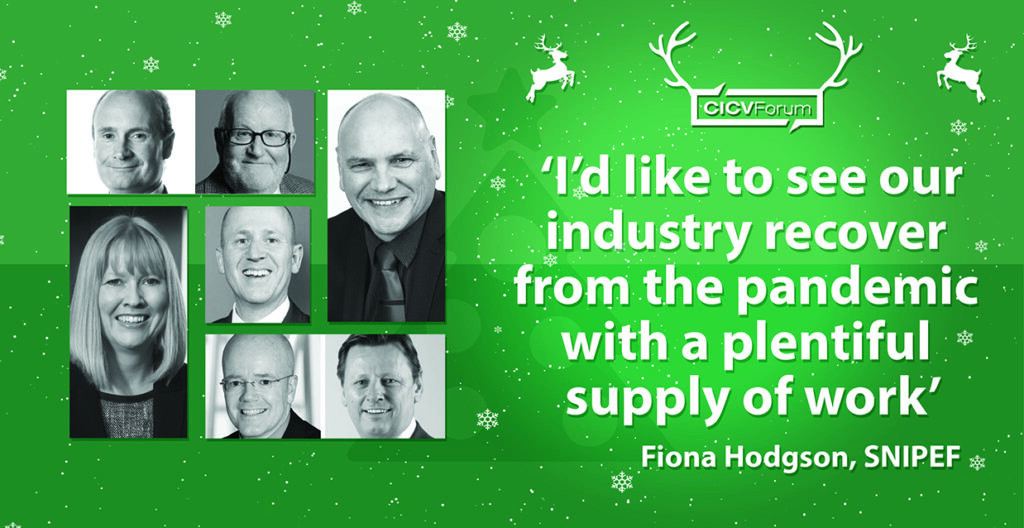 David Logue, Partner at Gardiner & Theobald LLP, said: "Like others on the Forum, my wish is that productive partnerships continue into 2021. Only by working together can we make real changes to the construction industry that will benefit not just the firms and individuals that work in our sector but also our clients and customers."
Fiona Harper, The Secretary of the Scottish Joint Industry Board, added: "My wish for 2021 is the same as every year – collaboration, collaboration and more collaboration. Now more than ever, we need everyone to recognise that we're in this together and we'll only recover and rebuild by cooperating closely."
For other members of the Forum, their wish-list included the health of both the industry itself and the thousands of professionals who work across it.
John McKinney, Secretary of the NFRC, the Stone Federation and the Scottish Contractors Group, said: "The most important thing is coming out of the pandemic with the least possible number of deaths. I hope the industry takes the time to look at how it operates to ensure that any further instances don't have the same impact. In future, it's vital that all parts of the sector are resilient enough to ensure we can continue business as usual."
Fiona Hodgson, Chief Executive of the Scottish and Northern Ireland Plumbing Employers' Federation (SNIPEF), said: "I would like to see our industry recover from the pandemic with a plentiful supply of work and, with the push towards low-carbon technologies, there are certainly huge opportunities for plumbing and heating businesses."
Other Forum members, such as Len Bunton, construction consultant and host of the Forum's recent commercial webinars, hoped that the pandemic would bring about real change in the industry itself. He said: "What has become evident is that the sector needs massive change and a top-to-bottom overhaul. My concerns are that we just go back to the old ways, so my Christmas wish is for the emergence of people with enormous energy who will be relentless in seeking to change the old order."
Iain McIlwee, Chief Executive of the Finishes and Interiors Sector, continued the theme, saying:"All I want for Christmas is for construction to put the 'r' in evolution, admit the process is broken and commit to be different in 2021. We only need a small reset to start thinking 'us' instead of 'me', front load, plan and programme to engage expertise early and stop looking for ways to pay late. If enough do it, we'll deliver the roadmap to recovery. The alternative is an unthinkable regression to 'normal' – and who wants to be normal?"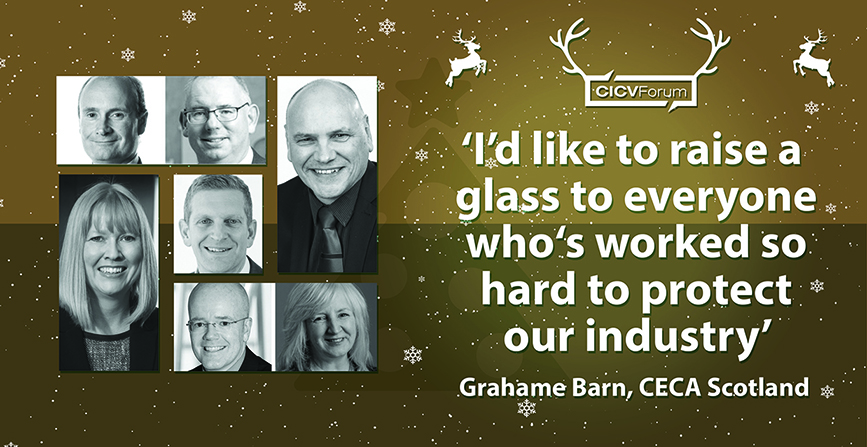 Peter Walker, Director of Health, Safety & Training at the British Constructional Steelwork Association, agreed, saying:"We need a new breed of leadership that is prepared to make the industry open, honest and transparent. This may seem to be too basic to have any significant impact on a longstanding problem but if all those involved at every level are fairly treated and rewarded then we'll have a construction industry that will be world class."
Ian Honeyman, Commercial Director of the Scottish Building Federation, had a specific request from Santa, saying:"My wish is that, when amendments to standard forms of contract are made which significantly change the intended risk profile, these amendments should be identified and the procuring body should state the reason for them, together with their impact on the tendering party. This would provide greater clarity for everyone."
The final word went to Grahame Barn, Chief Executive of CECA Scotland, who said: "I dream of being able to again enjoy my winter treat of a few home brewed pints with friends at the Moulin Inn near Pitlochry. In between slavering nonsense and eating good food in front of a roaring fire, I'll toast the achievements of everyone who worked collaboratively under the banner of the CICV Forum to protect our industry during this awful pandemic."
Made up of more than 70 trade associations, professional services bodies and companies, the Forum has maintained a steady supply of information and practical advice to the sector as well as carrying out surveys, producing animations and posters, hosting webinars and making appeals to Government Ministers.
Iain Mason, Chair of the Forum's Communications Sub-Group and Director of Membership and Communications at SELECT, said: "It is perhaps unsurprising that, given the quite remarkable success of the Forum's inclusive and collaborative approach, many of its members are keen for it to continue more widely than ever across the sector.
"The Forum has demonstrated just what can be achieved by working together, rather than against each other. Whatever the coming year brings, the Forum's achievements show that our industry can emerge from this crisis robust, resilient and, hopefully, fully recovered."