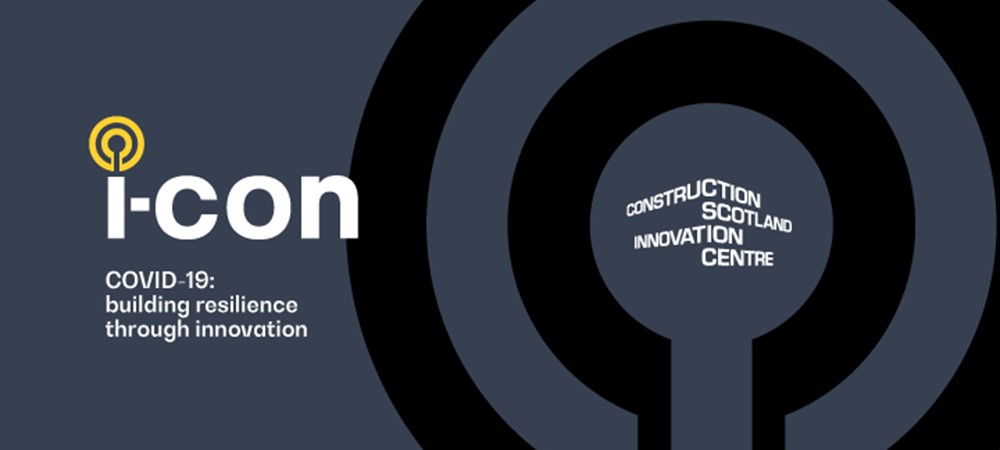 Two ground-breaking CICV Forum projects are among those being supported by Construction Scotland Innovation Centre (CSIC) i-Con Innovation Challenge Fund, part of a support programme set up earlier in the year in response to Covid-19. 
With a combined project value of nearly £250,000, almost £125,000 has been awarded by CSIC to six successful applicants who have designed projects covering a wide spectrum of areas including economic recovery, technology, skills and new processes.
The fund, managed by CSIC using funding from the Scottish Government through a partnership of the Scottish Funding Council, Scottish Enterprise and Highlands and Islands Enterprise, was designed to respond to the challenges facing the built environment as a result of the global pandemic and offers a platform for industry and academia to collaborate.
Since its launch in May this year, a total of 242 matchmaking profiles have been created on the i-Con collaboration portal by public and private sector organisations, academia, trade associations and the wider construction sector.
Some 23 funding proposals were submitted during the first round of funding, with the following six successful project applications being granted funding or support with trials:
The 3E's project – CICV Forum Toolkit: will develop a set of digital learning scenarios to create a COVID-19 toolkit to support Scottish construction, including apprentices, to return to work safely.
The economic, social and environmental benefits of stimulating repairs and improvements to the Scottish built environment to aid a green recovery from COVID-19 – CICV Forum: will engage the Fraser of Allander Institute, University of Strathclyde, to model economic scenarios across differing area of construction work to help ascertain where the UK and Scottish Governments should target public funds to stimulate a post-Covid recovery in the sector.
Remote Building Inspection Framework – Sublime, Scottish Government Building Standards Division, Balfour Beatty, University of Strathclyde and Robert Gordon University: will use image processing and virtual reality interfaces to enable building professionals and consultants to manage and monitor the construction phase of buildings and improve productivity and quality, with fewer defects in the long term, via an online platform.
A COVID-19 response for the light-gauge steel framing industry (CovSteel) – Newton Steel Frame and the University of Edinburgh: will quantify the beneficial effects of composite action between light-gauge steel framed walls and calcium silicate sheathing, with the aim of improving efficiency of the fabrication process and material use.  This will in turn support the competitiveness of the light-gauge steel framing industry and help it remain financially buoyant and so help reduce the current backlog in construction projects.
Trial of Smart Site Management Proximity Sensing Solution – SiteCircle and CSIC: trial of Bluetooth technology to create 'Smart Site' workplace where social distancing and contact tracing will be monitored.  Social distancing and health status will provide real-time data via a WorkSafe dashboard. 
Trial of Digital Pass Solution – eCom Scotland Ltd and CSIC: trial of C19 pass and digital app that aims to facilitate a safe return to work, enhance safe working environments, build employee confidence in returning and optimise efficiencies and outputs. 
Lucy Black, Director of Innovation and Engagement at CSIC, said: "The response to i-Con has been overwhelming and from the levels of engagement, from those either faced with challenges or those offering knowledge and expertise, it clearly demonstrates the progressive approach the industry is taking and the appetite to recover through innovation.
"We look forward to seeing the progress made by the six selected projects in this first phase, and of course the matchmaking portal will remain open to help build more collaboration through teams who can access support and expertise to help co-create rapid, impact-focused solutions."
CICV Forum Chair and SELECT Managing Director, Alan Wilson, said: "Since the formation of the CICV Forum, we have witnessed an incredible level of co-operation and collaboration across the industry. 
"It is great to see so many varied and innovative projects coming out of the i-Con initiative that will help to drive recovery in the sector and potentially transform ways of working."
The i-Con Knowledge Hub and Online Learning Platform also offer a vital source of support designed to help the built environment community find relevant information and navigate the range of support services available to the sector.
A range of online events, webinars and training programmes will offer rich learning experiences that build resilience and knowledge across the sector.
Further details about the i-Con Hub can be found here.