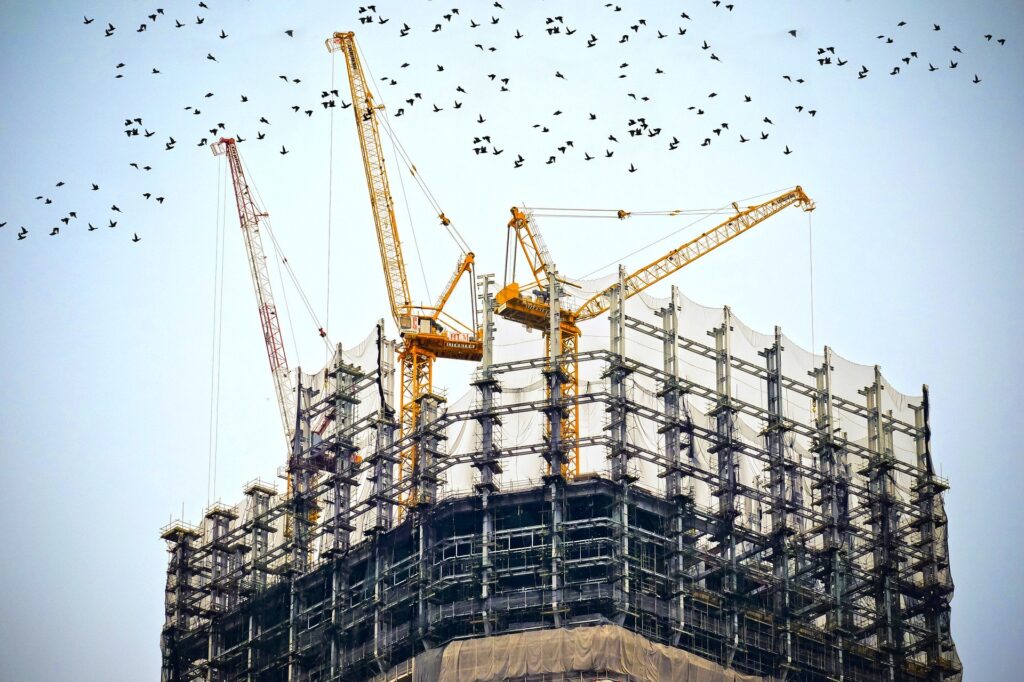 Essential construction work is being allowed to continue in Scotland, following the lockdown announcement by First Minister Nicola Sturgeon on Monday 4 January. Specific rules have been given to tradespeople, governing what type of work can be carried out during this time.
Domestic work
Tradespeople should only go into a house to carry out or deliver essential work or services, or where that house is unoccupied. The kind of work that may continue includes:
utility engineers and telecoms workers (e.g. electricity, gas, solid fuel, water, broadband) for the purpose of safety checks, repairs, maintenance and installations, where those cannot be delayed
urgent repairs and maintenance, i.e. time-critical repairs and maintenance that threaten the household's health and safety
pest control
delivery, installation and repair of key household furniture and appliances such as washing machine, refrigerator, cooker etc
provision of health, medical and veterinary care to household occupants including animals, e.g. to prevent a health or welfare issue arising or address a current health or welfare issue
services in support of a home move
domestic cleaner providing services in support of a clean and safe living environment for people in vulnerable circumstance, living with a disability and as a result of that vulnerable circumstance or disability are unable to clean their own home.
Where work to be carried out on someone else's home is not essential, it would be against the law for it to go ahead while the house is occupied under the current restrictions. Examples of this could include:
cosmetic painting/ decorating/ interior design
interior remodelling
measuring, fitting or replacement of kitchens/ bathrooms/ carpets or windows where the existing condition is adequate and does not risk the health or safety of the household.
Working in someone else's home
In this public health crisis, it is vital that everyone act responsibly and align fully with published guidance. At a minimum this should include:
2 metres physical distancing
good ventilation
the wearing of face coverings
effective hygiene practices
appropriate risk assessment
contact tracing and appropriate self-isolation.
Tradespeople and businesses should contact the customer or client in advance to:
ensure the customer or client agrees to have their contact details recorded for the purpose of contact tracing
check the household is not self-isolating.
People should not enter the home if any of its occupants are self-isolating, except where such work is essential for emergency health and safety reasons. In such circumstances, tradespeople and businesses should review any risk assessment processes they have in place and be especially vigilant in implementing existing mitigation measures throughout the duration of the work, such as:
physical distancing
hand hygiene
avoiding unnecessary contact with household surfaces
use of face coverings.
These mitigations are essential to break the chain of transmission
The CICV Forum has updated its guidance for carrying out work in domestic properties, which can be found here.
Outdoor sites
For outdoor workplaces during lockdown, construction and manufacturing can remain open, but employers should plan for the "minimum number of people needed on site to operate safely and effectively".
Canteens
Physical distancing should be observed when using site canteens and local shops and cafes. The 2m physical distancing rule has now become law.
Travel
You should only travel with members of your own, or extended, household. When there is no alternative but to travel with people from outwith your household, eg for work, you should:
Keep to small groups of people, up to six at any one time
Keep your distance and take care entering and exiting the vehicle
Sit as far apart as possible in the vehicle, avoiding face-to-face
Maintain good ventilation by keeping the car windows open
Wear a face-covering, unless you are exempt
Clean your hands before and after your journey
If the vehicle is your responsibility, clean the door handles and other areas that people touch.
If you regularly share transport whether it is a car or minibus or other private vehicle, try and share with the same people each time.
Further information on travelling to work is available in the CICV Forum animation here.
Apprentices
There is currently no specific guidance for apprentices attending college, with many classes for January now being carried out via remote learning. Useful links for further information include:
Face masks
Appropriate face coverings should be worn at all times. For more guidance, watch the CICV Forum animation on face masks here.
Merchants and wholesalers
Merchant and wholesale suppliers will be allowed to remain open.
Dealing with worker concerns
Where workers are reluctant to attend work, or to work on certain jobs due to COVID-19 fears, employers are urged to tackle this issue sensibly. Employers should share the outcomes of risk assessments of such jobs to allay workers' fears of excess risk, and ensure that job sites are following COVID-19 public health guidelines to an acceptable degree before carrying out the work.
Coronavirus Job Retention Scheme (CJRS)
The CJRS or furlough scheme continues to operate UK-wide during this time, and will continue until at least the end of April 2021. The UK Government has reiterated that a lack of appropriate childcare is an acceptable reason to place a worker on the furlough scheme, either fully or flexibly, even if there is sufficient work in the business for that worker to do.
Home Energy Efficiency Programme for Scotland (HEEPS)
Non-essential works inside people's homes that are funded as part of the area-based schemes (ABS) programme should not be started while Level 4/stay at home restrictions apply. This includes any preparatory activities that need to take place inside people's homes, eg an initial EPC or other building survey. If pre-existing internal works remain incomplete, eg part finished internal wall or 'room in roof' insulation, local delivery partners would be expected to urgently complete these as essential works, to ensure that the property is safe and weatherproof.
The Scottish Government will be meeting with business representatives in the coming weeks to review if any changes are needed to stop the spread of COVID-19 in workplaces and to consider "if more regulatory action is required".
Further information can be found on the Scottish Government website here.
The Scottish Government has also published a page of FAQs about working in people's homes, including guidance about essential domestic construction work. Read more here.