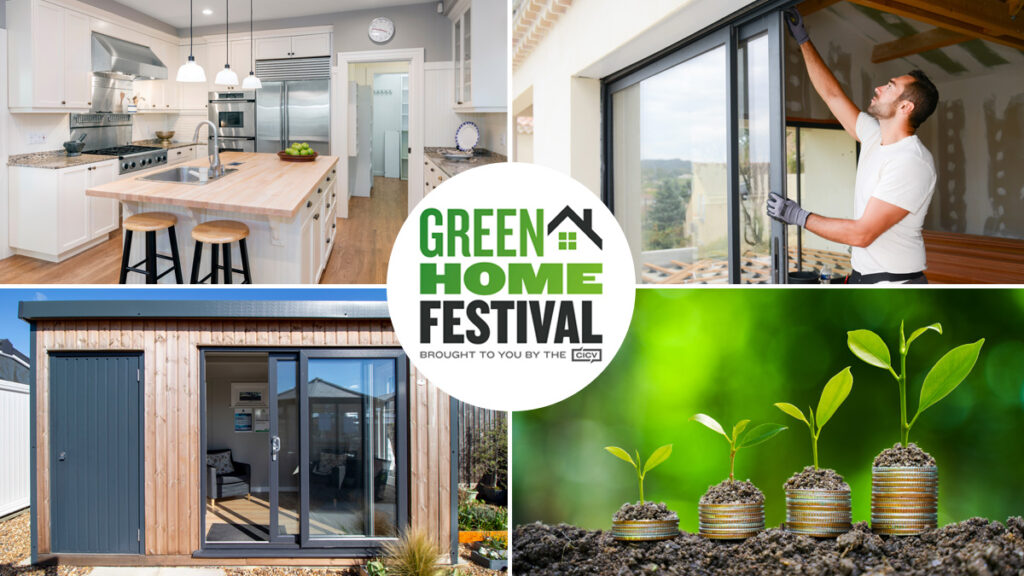 Building greener kitchens, accessing renewable funding and preventing heat loss through windows and doors are among the main events being planned for this year's Green Home Festival, organisers have revealed.
Air source heat pumps, effective insulation and electric vehicles (EVs) will also be high on the agenda at the second five-day event, which is being organised by the CICV.
Running from 14-18 August as part of the official Edinburgh Festival Fringe and delivered via a mix of in-person and virtual presentations, the festival will once again deliver practical assistance and advice to help Scotland become a net zero nation.
With a focus very much on consumer issues, CICV organisers have followed up on the success of last year's inaugural event with another line-up of topical talking points, including:
Garden rooms and garden offices
Practical consumer guidance on heat pumps
Efficient use of gas central heating
Hybrid heating and boiler types
Converting disused buildings into smart homes
Insulation and fabric of buildings in domestic retrofitting
The future of low-carbon heating technologies, such as microwave
Webinars on retrofit skills and heat programmes
Solar panels, including battery storage options.
The festival is again likely to attract Ministerial attendance from the Scottish Government, with other special guests also being pencilled in to appear to extol the virtues of green energy and low-carbon living.
One of the CICV organisers, John McKinney, Secretary of the National Federation of Roofing Contractors, said: "Last year's inaugural Green Home Festival delivered a wealth of demonstrations and hands-on guidance about efficient use of energy and smart interaction with the built environment.
"As we all try to minimise carbon emissions and do our best to mitigate the effects of the cost-of-living crisis, it is likely that interest this year will be even greater, and the proposed programme is designed to have a greater focus on consumers and practical domestic advice.
"The construction industry has demonstrated unprecedented levels of co-operation in the common interest in recent years and this festival will once again illustrate that it can work together with the public to help build a greener Scotland for everyone."
Presenters at the show will include experts from the CICV and other organisations including the Architects Climate Action Network, Edinburgh University, BE-ST, and the Energy Savings Trust, with venues, dates and booking details to be revealed later this year.
Co-organiser Gordon Nelson, Scotland Director of the Federation of Master Builders, added: "Representatives from across the construction industry in Scotland have once again been working hard to put together a programme for the festival which is relevant to a wide audience and of real practical value to consumers.
"There is a tangible feeling that the will to act is now there in the broad mass of companies, organisations and individuals who want to reduce their carbon footprint and become more energy efficient.
"As the agenda firms up and the festival begins to take shape over the coming months, we expect that its professional perspective and focus on a more sustainable and healthier environment will attract a wide audience from Scotland and beyond."
The second Green Home Festival is the latest in a string of practical and constructive initiatives launched by the CICV since its creation as the Construction Industry Coronavirus (CICV) Forum in March 2020.
Made up of 28 trade associations, professional services bodies and companies, it has maintained a steady supply of information and practical advice to the sector as well as carrying out surveys, producing animations and posters, hosting webinars and maintaining close dialogue with Scottish Government ministers.