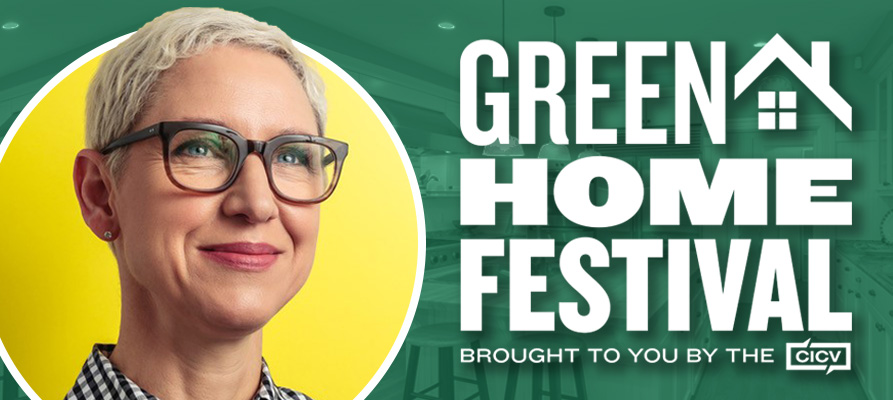 TV presenter and award-winning designer Anna Campbell-Jones will be the star guest at this year's Green Home Festival, which starts in 50 days as part of the official Edinburgh Festival Fringe.
The co-host and judge of hit BBC Scotland show Scotland's Home of the Year will be a keynote speaker at the second week-long event, which is again being organised by the CIV.
Anna will discuss low-carbon living as part of the Ingredients for a Greener Kitchen show on the first day of the free festival, which will host 11 in-person and virtual sessions from 14-18 August to help consumers on the journey to net zero.
The interior designer – who won Scottish Influencer of the Year last October – said: "I am delighted to be taking part in this year's Green Home Festival and to be able to help raise the profile of eco-friendly living for consumers across Scotland.
"Finding greener ways of designing, decorating and renewing our homes will be vital for us all going forward and creating more low-carbon kitchens will be a key part of that.
"In particular, I feel passionately that the era of 'fast fashion' for interiors must come to an end. Kitchens are a significant contributor to unrecyclable landfill and I'm going to talk about alternative approaches to the concept of what we mean by 'getting a new kitchen'."
Anna starred in the grand finale of Scotland's Home of the Year on Monday night (26 JUNE), and also won the interiors and design award at the inaugural Scottish Influencer Awards in Glasgow in October 2022.
She will now star alongside experts from Scottish Water, plumbing body SNIPEF, electrical trade association SELECT and James Alan Construction, who will all share their first-hand knowledge and advise on what to consider when planning and renovating a kitchen.
Festival co-organiser Gordon Nelson, Scotland Director of the Federation of Master Builders (FMB) said: "We are delighted to welcome Anna to this year's Green Home Festival and look forward to hearing her invaluable input and expertise on greener living.
"Like all our shows, Ingredients for a Greener Kitchen will deliver a wealth of practical advice, focusing on the vital areas that can make kitchens eco-friendly – water efficiency, electrical efficiency and sustainably sourced materials and units."
Other Green Home Festival shows to be delivered during the week include green garden rooms and offices, making retrofit projects eco-friendly, the potential of microwave heating, converting churches, and how the home of the future will be powered.
The event will also include a dedicated heat pump day, with experts hosting two separate shows to advise on how to reduce bills, access grants and install the new technology, as well as the options for hybrid heating.
Plus the experts from Built Environment – Smarter Transformation will host an in-person show on the advantages of community heat networks and an online webinar that will advise what consumers can do to reduce both their energy consumption and energy bills.
Mr Nelson added: "With 50 days to go, and with all 11 events now confirmed, the second Green Home Festival is shaping up to be as big a success as last year's inaugural event.
"We are also preparing to announce two webinars as we combine advice on accessing funding and saving money with practical demonstrations of low-carbon technology that consumers can put into action as we move towards becoming a net zero nation."
The Green Home Festival is the latest in a string of practical and constructive initiatives launched by the CICV since its creation as the Construction Industry Coronavirus (CICV) Forum in March 2020.
Made up of 28 trade associations, professional services bodies and companies, including [NAME], it has maintained a steady supply of information and practical advice to the sector as well as carrying out surveys, producing animations and posters, hosting webinars and maintaining close dialogue with Scottish Government ministers.
Image of Anna Campbell-Jones by Andrew Jackson