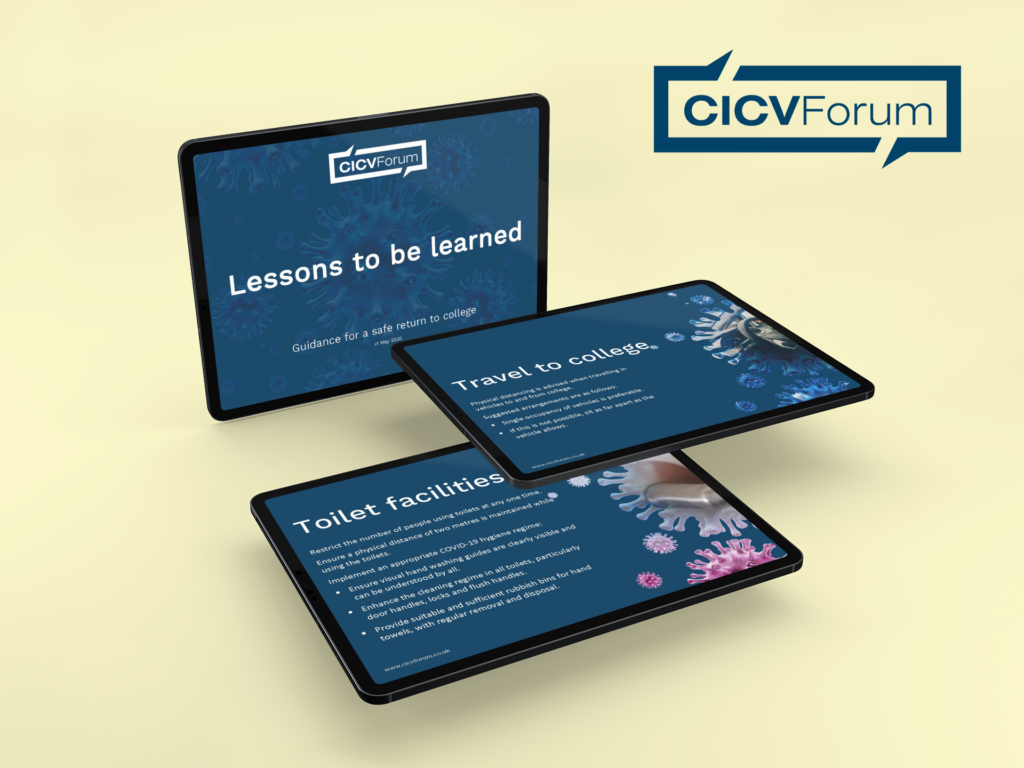 As Scotland's colleges and training centres discuss reopening, the CICV Forum has helped develop a new set of guidelines designed to keep staff and apprentices safe
Compiled by Forum members the Scottish Joint Industry Board (SJIB), the Scottish Electrical Charitable Training Trust (SECTT), SELECT and SNIPEF, the presentation outlines practical day-to-day measures that colleges and apprentices can take to protect against COVID-19 when studies resume.
Its overarching principles are protecting the vulnerable, keeping contact lists updated, providing staff with relevant training, offering suitable facilities for hand washing etc, and ensuring that physical distancing is properly policed.
Other measures in the downloadable PowerPoint, entitled Lessons to be Learned, include:
Face coverings – ensuring apprentices cover their faces in enclosed places where it is difficult to keep 2m away from others. This covering can be made of cloth or other textile through which people can breathe, e.g. a scarf.
Travel to college – physical distancing is advised when travelling in vehicles to and from college, with single occupancy of vehicles is preferable. If this is not possible, apprentices should sit as far apart as the vehicle allows.
Tools, equipment and plant – all tools and equipment should be properly sanitised as frequently as possible to prevent cross-contamination, with cleaning materials provided. Only one person should use the same equipment and plant.
Toilet facilities – restrict the number of people using toilets at any one time and ensure a physical distance of 2m is maintained. Ensure visual hand washing guides are clearly visible and enhance the cleaning regime, particularly door handles, locks and flush handles.
Canteens and eating arrangements – apprentices and students should bring a packed lunch and flask, break times should be staggered, everyone should wash their hands before eating and hand sanitiser provided. In addition, diners should sit 2m apart, pre-packed food should be sold and contactless or card payments used.
Corridors – wherever possible, introduce a one-way system on access routes, making clear there is one door in and another door out and marking up walkways to clearly indicate 2m spacing.
First aiders – to avoid risk of infection, responders should minimise hand contamination, avoid touching their face and clean their hands frequently. FFP3 or FFP2 masks, gloves, aprons and eye protection should be worn during treatment, with any disposable PPE disposed of afterwards.
Cleaning – ensure all frequently-touched objects and surfaces are regularly cleaned and disinfected.
Risk assessments – all documentation for workshops and classrooms should be reviewed before colleges reopen, and should align with any relevant Scottish Government guidelines.
The guidance also urges college staff to make apprentices aware of cough etiquette and other do's and don'ts, as well as alerting them to the symptoms of Coronavirus and what to do if they start to display them.
It is also says staff should share the guidance with all lecturers and apprentices on a continual basis, with any apprentice not following the rules reported to their training provider for immediate action.
The guidance was compiled by Fiona Harper, SELECT's Director of Employment and Skills and The Secretary of the SJIB, and Barrie McKay, Training and Development Manager at SECTT.
Other essential input came from members of the CICV Forum Health & Safety Sub-Group, including Martyn Raine, Technical and Skills Manager at the employers' federation SNIPEF.
Fiona said: "With ongoing discussions about the resumption of studies, we are all obviously keen that apprentice safety is put firmly at the forefront.
"These recommendations are designed to be practical and easy to follow, with clear guidance on how to protect both apprentices and the college facilities themselves from the ongoing thereat of Coronavirus."
To help spread the message even wider, the presentation is being adapted into an animation that will be shared on social media and websites, encouraging apprentices to stay safe during their studies.
Fiona added: "In everything we're doing, the message is clear: We must work together to stop this virus, safeguard the young people in our industry and protect our wider communities and families."